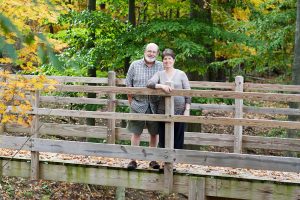 Doug Beilstein first noticed hostas more than eighteen years ago.  Since then, he has developed a keen interest and appreciation for the "friendship plant".  This interest led him to invest in thousands of hostas and, more recently, to devote his efforts to hybridizing them.  In 2003, Doug and Mardy Beilstein started HostaWorks in order to share the fruits of their labors with other hosta enthusiasts.
Our website, www.hostaworks.com, opened for business in Fall 2007. In 2012 we redesigned our site and added a more convenient shopping cart feature for you to easily purchase seeds in our Seed Shoppe. For now, we will just be offering seeds for sale once a year, in November.  To browse our catalog of seeds available this year, please visit our Seed Shoppe.
In addition to the seed list, we've also compiled a number of other photographs of the property.  We hope you'll enjoy them!
Sixty Nine of Doug's plants are now registered with the American Hosta Society.  To view some of these plants, please see our Registered Plants page.
Thanks for visiting www.hostaworks.com!
Doug and Mardy Beilstein
Proud Members: