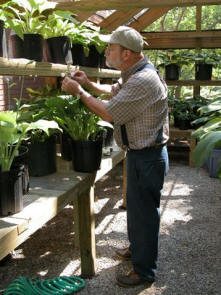 Spring 2013 Update: I just want to thank you all for participating in out seed program this year.  My overall germination rate this year from my crosses was pretty good.  I hope yours were also.  See you in the fall.    Thanks again.  – Doug
We are pleased you came to HostaWorks.com. We hope you like the improvements!
Welcome to our new site, including a newly updated and fully functioning HostaWorks Seed Shoppe!
Our family has expanded with a new son-in-law and with that came unexpected computer savvy and expertise. Thanks to Kevin, you will now find your trip down the selection aisle to be a more "normal" online shopping experience with the traditional shopping cart and checkout functions.
The 2012 growing and seed production season was very different than previous years. Many less plants produced far less seeds, thus this year's offerings are less both in total offerings as well as number of seed pacs available. Order them quickly!
Have fun, happy planting, and thanks for returning again this year.
- Doug