November 2016 Note from Doug…………..
Fellow Hybridizers and Hosta Enthusiasts:
Hello Hybridizers:
A most interesting season and a very challenging fall  !!!!!  My work with trtraploids ( tets ) continues with a couple of interesting results.   There are a few tet selections if you wish to get started.  I would direct you to # 60 and # 61.    Folt   ( Flash of Light  t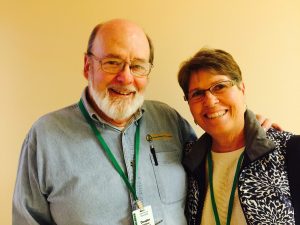 et  streaked – but untested as a tet  ) has given me some great results with other known tets, namely Whirlwind and Second Wind.     I have found Lakeside Sir Logan to be very agreeable with other tets both ways !   But not many of those seeds.   I'm up to the where I have F2 plants that have 4 different grandparents all tets and growing strong and setting pods.     I still have an offer of exchanging seedlings from tet crosses with anybody that has some.   About the Blue Cadet str seed pac,   I average about 1-2 str seedlings per year from that plant but they tend to fade.
The fall challenge has been the chipmunks.   A real explosion in numbers and those little varmints are hungry in the fall.    Many of the plants that I had marked for harvest were stripped by the time I went back to collect the pods.     Thus, the total over all offerings are decreased in numbers as well as the available pacs.
On another note I have fallen into the red leaf challenge.   Trying to catch up with the crowd that has several years of advanced progress will be a challenge.  Actually, I would like to hear from any of you with plants to exchange in the red project.      I can't wait for this winter's seedlings to start to germinate.    That said there are a few red plant offerings.   Fully half of my breeding program went that way this year.     It should be an interesting winter seedling growing season.
I have the easy part in this seed thing.    Much thanks to son-in-law's Kevin and Andy, their beautiful wives, our daughters, Megan and Amy, but the chief cook and bottle washer is Mardy my bride, thank you all.
Want to wish you all a very happy Thanksgiving.
Good luck in your seedling selections and growing this fall.
Later
-Doug
Click here to browse the Seed Shoppe.